studies & works in progress • page 1
(Click on an image to see the studies; click on the studies to see them larger.)
in Japan
⇖
Fission
Drawn at fruit stalls selling nothing but bananas in the narrow streets of Ameya-Yokochō, a crowded market area south of Ueno station, Tokyo.
⇖
A Car is Born
⇖
Cooling Off
⇖
The Image Maker
⇖
Little Me
⇖
Physiognomy
1 & 2, which were reference points for the painting, are printed illustrations from a Japanese almanac of 1966: 1) Fortune-telling by physiognomy; 2) A numerical health-diagnosis system. 3–7 are sketches of Buddhist mudrās (symbolic hand gestures). Sketch 8, drawn in Tōdaiji, the great temple in Nara, Japan, is a study of the world's largest indoor Buddha figure.
⇖
Whoosh
⇖
Subway
Tokyo subway sketches, 1965–67.
the dot series
The first pictures of the Dot Series were made by examining very small black and white half-tone photographs (or small sections of photographs, mostly from Japanese magazines) with a magnifying glass and drawing the dot patterns much larger, simplifying and revising to achieve a strong image. The interplay between abstract dot patterns and recognizable images is what attracted me. I called these drawings "hand-made photos" or "recycled images."
First I used dots as large as they could be made without quite obscuring the image.
Then I used smaller dots for more complex images, drawing them on graph paper to position them in a precise grid arrangement. Small dots 7 is a preliminary outline diagram of dot patterns in the lower right corner of small dots 8, the swans. I drew the outlines first, to clarify the complicated shapes before painting them in black.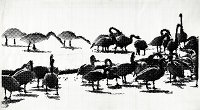 ⇖
Circle Girl and Sachiko
The portraits Circle Girl and Sachiko, originally drawn on graph paper, were redrawn later on better paper. Here are two more from the original dot-portrait series.
⇖
⇖
Interface
1) A face one-half shaded with dots. 2) I used this study, half dot pattern and half brush drawing, to make screens for the color printing of Interface and superimposed the face image over itself.
⇖
Inner Eye and Grey Eyes
Further experiments with dots in color. Eyes 5, 6, and 7, as well as Inner Eye and Grey Eyes, are based on the eye from Interface.
⇖
⇖
The Face of Night
The plan was, after making pictures with black and white dots, then to try colored dots, not to simulate a realistic half-tone color photo printed in red, yellow, blue and black, but as a way to use arbitrary colors of my own choice. I painted the same dot pattern in a second color on top of itself but shifted it slightly out of alignment so that the two colors partially overlap, putting a third color in the overlap area (red and green dots, black where they overlap, study 8). Then I added a fourth color for the background (studies 9 and 10).
⇖
The Face of Dusk
In this painting, rather than putting half-tone dots in a regular grid formation, I made the eyes with freely drawn and randomly placed dots and blobs or amoeba-like shapes. But again the same pattern is repeated on top of and overlapping itself.
⇖
The Golden Glasses
⇖
Eyes Over Egypt
⇖
Circle Smile
⇖
Naomi
⇖
Ice Queen
⇖
X & Y
The dot pattern of the right half of the face was based on Interface study 2. The pattern of the left half was invented from imagination following the same kind of regular grid. The colors of this painting were suggested by the positive-negative contrast of the two eyes at the bottom of The Golden Glasses study 3.